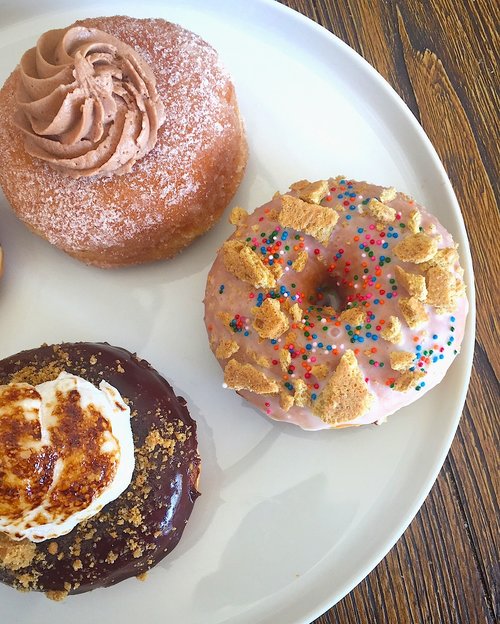 If follow me on Instagram (@amber__love) then you know I spend a large amount of my time at Sweetness Bakeshop in Kendall. It's really close to my house, has fast WIFI, great music (they let me pick the playlist most days), delicious coffee, and is a cupcake shop – so naturally I've made it my office and where I do most of my writing.
My week was made when owner, Stephanie Diaz, told me they were bringing back their donuts.
Sweetness Bakeshop was wise beyond their years when they started making donuts that debuted in January 2012, way before the donut craze hit Miami. They were even named Florida's Donut in Zagat's 50 Donuts in 50 States in 2014 featuring their Cuban community inspired Guava and Cream Cheese Donut. This tropical-fruit-infused treat was based on a traditional Cuban flavor combination; this fluffy pastry is filled with slightly tart guava marmalade and is then topped with a mild cream-cheese glaze that balances everything out.
They stopped making donuts in the middle of 2015, and it broke my heart. They returned briefly in the beginning of 2016, but didn't last long. They're back now and hopefully not going anywhere. "We really had no choice but to bring them back, because everyone keeps begging us for them and we finally just gave in" says Stephanie of the donut's return to the Sweetness menu.
Read More